Have you ever had a great round and been really excited to get back out there because you couldn't wait to repeat the experience?
But much to your disappointment, your next round unfolds differently and not in a good way??
Playing great golf doesn't have to be a mystery.
When trouble arises, most golfers think that their faulty swing mechanics are the cause of their inconsistent play.
In this episode, I challenge that conclusion by sharing specific situations I constantly hear about and the top 10 reasons why your mind is to blame for your high scores.
Here's how this episode plays out…
[02:58] Situation #1: If golf was played on the range you'd be a scratch golfer – Your mind is to blame because you haven't been building trust in your swing on the range so that you can play with it on the course.
[04:58] Situation #2: You find it difficult to maintain your focus for 18 holes – Your mind is to blame is because

you haven't disciplined it to stay focused on the right parts of your performance.

[07:26] Situation #3: You have a hard time playing tension-free during competitive rounds – Your mind is to blame because you've been expecting to play differently on "game day" than the standard you've been holding yourself to every day.
[08:58] Situation #4: You get anxious playing with others for fear of embarrassing yourself – Your mind is to blame because your focus has been wrapped up in other people.
[10:39] Situation #5: You try hard to avoid "trouble" spots on the course – Your mind is to blame is because

you've been thinking about playing not to lose rather than how to play to win.

[12:11] Situation #6: Your confidence can get shaken after a really bad shot or hole – Your mind is to blame because

you're not building a strong confidence foundation beneath your game.

[14:38] Situation #7: You hope for the best but tend to wait and see how your round unfolds – Your mind is to blame because you've not been constructing a specific game plan before every round so you can start, stay, and finish strong.
[16:27] Situation #8: After a tough round you find it easier to remember what didn't go well – Your mind is to blame because you haven't been taking the time after your rounds to evaluate your performance through an objective and scholarly lens.
[18:25] Situation #9: You struggle to maintain a positive attitude when the wheels are coming off your game

– Your mind is to blame because you've not been playing with a consistent post-shot routine.

[19:58] Situation #10: You tend to rush when there's a slow player in your group – Your brain is to blame because you're not seeing the bigger picture.
[22:44] Episode Summary: Don't miss the top 10 ways you can use your mind to overcome the most common challenging situations in golf.
Don't forget to download your free cheat sheet here >>>>>>>>>>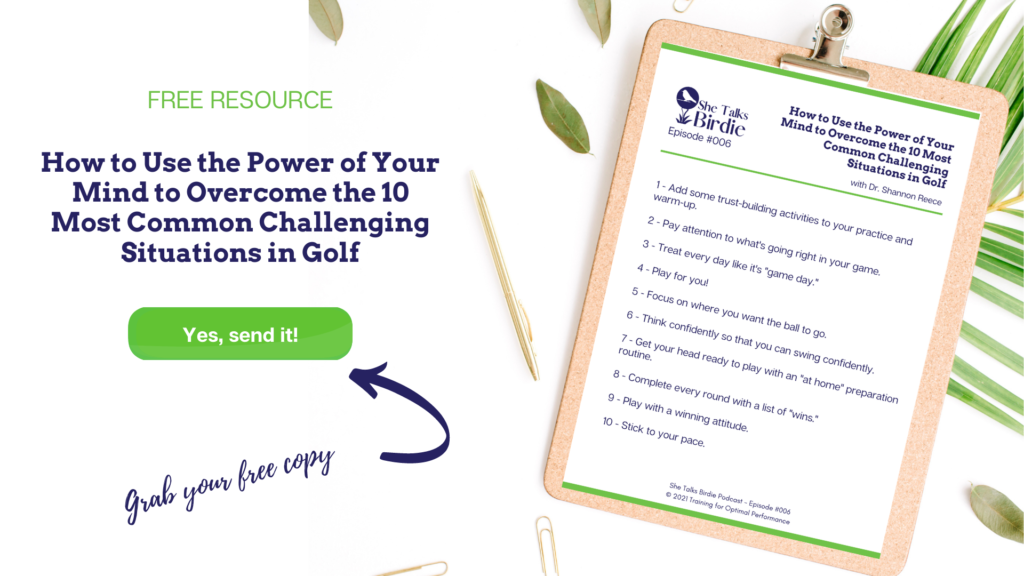 Other references that I mention in this episode –
Rate, Review, & Subscribe on Apple Podcasts
"I love Shannon and She Talks Birdie." <– If that sounds like you, please consider rating and reviewing my show! This helps me support more golfers — just like you — to improve their mental game so they can experience more consistency, more confidence, and loads more fun. Click here, then click on "Listen on Apple Podcasts" and a new window opens, scroll down and click on "Write a Review." Then be sure to let me know what you loved most about the episode!
Also, if you haven't done so already, subscribe to the podcast. If you're not subscribed, there's a good chance you'll miss out. Subscribe now!
---
Subscribe where you listen to your favorite podcasts now!