Have you ever lost your focus during a round only to have it cost you a shot or more? Or maybe you've had your mind go completely blank in the middle of a swing.
Though at times it feels like your focus goes up in smoke, you're actually always focused on something.
But to play solid golf you've got to know how to regain, train, and maintain a laser-like focus on the right parts of your game.
That's why in this episode, I share 3 ways you can sharpen your golf focus so you can hit better shots.
Here's how this episode plays out…
[05:24] Lesson #1: How to Regain Control of Your Focus – There are times when your focus shifts in the wrong direction. Learn how Barbara was able to learn how to get her focus back on track.
[09:45] Lesson #2: How to Train Your Mind to Focus on the Right Parts of Your Game – My client Kelly got caught up in a big distraction that's probably tested your focus. See how I teach my clients to keep their focus tuned into the right parts of their game.
[15:40] Lesson #3: How to Maintain Good Focus for 18 Holes –  You may feel like your focus comes and goes during a round. Follow the strategy that one of my professional golfers uses to keep his head in the game.
Don't forget to download your free cheat sheet here >>>>>>>>>>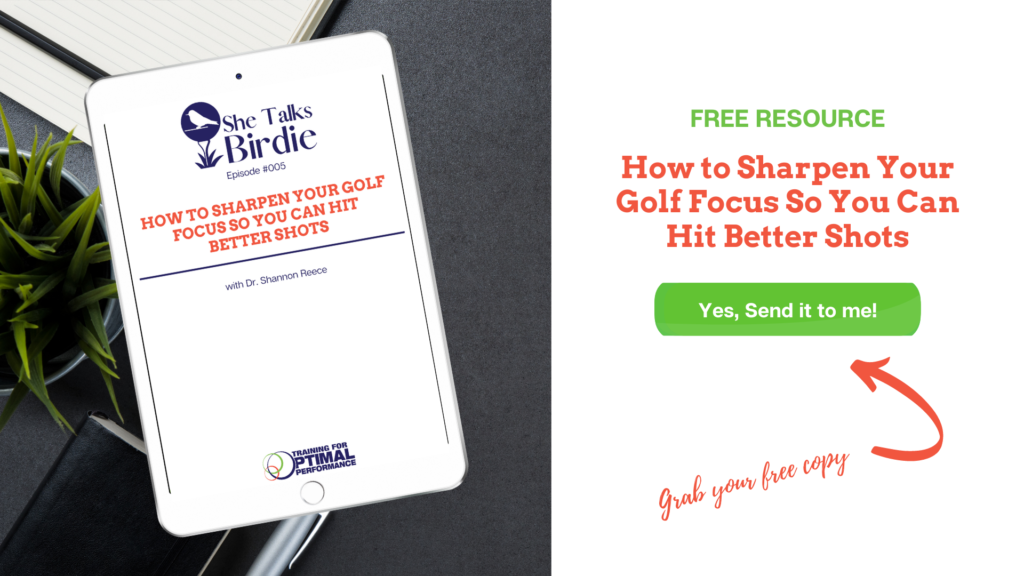 Rate, Review, & Subscribe on Apple Podcasts
"I love Shannon and She Talks Birdie." <– If that sounds like you, please consider rating and reviewing my show! This helps me support more golfers — just like you — to improve their mental game so they can experience more consistency, more confidence, and loads more fun. Click here, then click on "Listen on Apple Podcasts" and a new window opens, scroll down and click on "Write a Review." Then be sure to let me know what you loved most about the episode!
Also, if you haven't done so already, subscribe to the podcast. If you're not subscribed, there's a good chance you'll miss out. Subscribe now!
---
Subscribe where you listen to your favorite podcasts now!