As I talked about in part one of this episode, there is a time to train your swing and a time to maintain your swing. And there are different rules for each approach.
You cannot be in both phases at the same time. You are either working on your swing, or you are working to trust and play with the swing in the state it's in without constantly working on it.
When you are training your swing on the range you want to follow rules that help you maintain the right environment to learn and grow. To learn more about those rules, check out my show notes for Episode #015 here.
Even while your swing is under construction, you can gather some valuable feedback by test-driving your swing change on the course from time to time. But just like on the range, you must create a solid environment in which to learn and grow without the pressure to score.
To help you avoid unnecessary frustration, in this episode I share the 5 rules for a good round when you're in the midst of a swing change.
Be sure to grab your free copy of the cheat sheet for this episode below.
Here's how this episode plays out…
[3:51] Rule #1: Play with a Training-Centered Definition of Success – It's counterproductive to measure your success on the course during a training phase the same way you would when you're not working on your swing mechanics.
[5:45] Rule #2: Focus on Doing One Thing Well – The last thing you want to take with you to the course is unnecessary mental clutter. You can play with a quieter mind by focusing on making one change at a time.
[6:53] Rule #3: Expect to Make Progress By Making Mistakes – You execute your swing change the right way every time when it's new, so give yourself permission to make mistakes so you can learn something valuable from them.
[8:19] Rule #4: Be Creative and Flexible – Golf rounds are ever-changing, so you must play with a mindset that allows you to change with the game without getting unsettled.
[9:47] Rule #5: Track Your Progress After Every Hole – While you won't be keeping a traditional score, you can track your rate of success as you play.
[11:39] Episode Summary – Here you will find a quick synopsis of the 5 rules for play.
If you have any questions about how to apply any of these rules to your game, please join me for my next Ask Me Anything Live Q&A Session inside my Facebook group. I show up live every Tuesday at 11:00 am ET and I'd be happy to help you advance your game.
To listen to last week's deep dive into Episode #015 CLICK HERE.
If you'd like to join this free group, head on over to PLAY GREAT GOLF on Facebook.
Click here to listen to the podcast now!
---
Don't forget to download your free cheat sheet by clicking the image below >>>>>>>>>>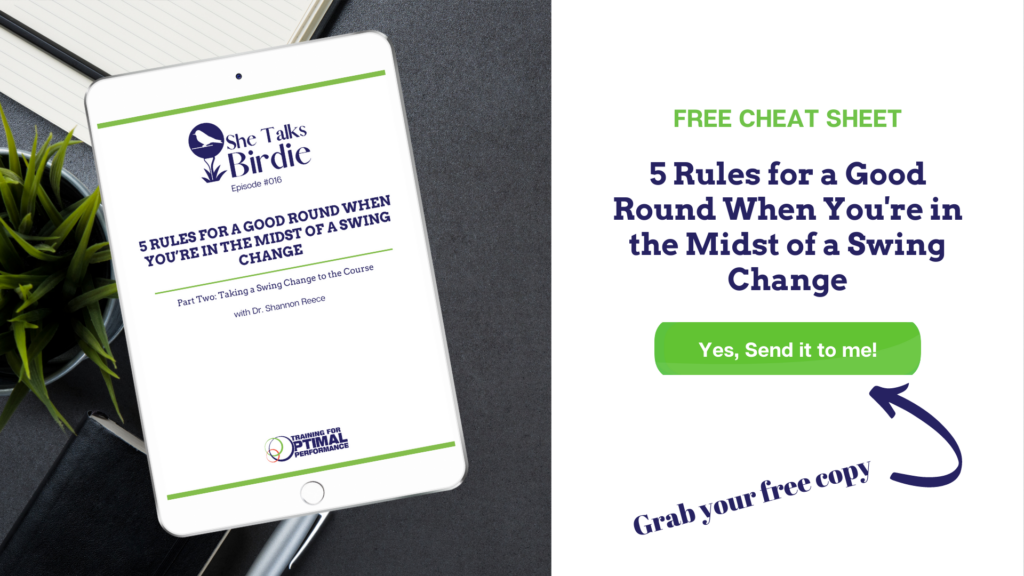 ---
Rate, Review, & Subscribe on Apple Podcasts
"I love Shannon and She Talks Birdie." <– If that sounds like you, please consider rating and reviewing my show! This helps me support more golfers — just like you — to improve their mental game so they can experience more consistency, more confidence, and loads more fun. Click here, then click on "Listen on Apple Podcasts" and a new window opens, scroll down and click on "Write a Review." Then be sure to let me know what you loved most about the episode!
Also, if you haven't done so already, subscribe to the podcast. If you're not subscribed, there's a good chance you'll miss out. Subscribe on iTunes here!
---
Subscribe where you listen to your favorite podcasts now!