What does it take to play great golf? Do you know?
You've had rounds where everything felt easy, but you may have walked away from a great experience at a loss for how to repeat it.
After watching those contending for the win at this year's Masters event you might think that great golf requires things like talent, patience, courage, experience, and solid strategy. And you'd be right.
But what great golf really comes down to is a great approach that is centered around enhancing the process side of your game rather than the outcome side. In this episode, I pull back the curtain to reveal the specifics of how professional and amateur golfers play to win.
Here's how this episode plays out…
[04:35] #1: Stay out of your own way – In order to have a process that helps you stay out of your own way it needs to be simple and repeatable and built on trust.
[06:35] #2: Keep doing what you're doing right – Justin said that he knew he needed to just keep doing what he was doing — meaning what he was doing right. That requires knowledge of what the right things are.
[08:51] #3: Be ready and willing to pivot as needed – The best way to prepare yourself for the unexpected is to spend some time thinking about different scenarios you've experienced in the past before you head out to play.
[11:35] #4: Stick to your process – Sticking to your process means that you never short-cut it, add clutter to it, change it, or conduct it halfway.
[14:05] #5: Play every round like it's the only round – If you recall Justin's comment he said that the trick was going to be sticking with a winning process all week long.
[16:13] #6: Run off instinct – Your gut instinct is one of your great inner tools, yet many golfers don't know how to listen to it or actively use it as an asset during their rounds.
[18:00] #7: Keep it one shot at a time – Remaining present-centered throughout your round is one of the most important of all the elements Rose described in his interview.
[20:11] #8: Just keep committing – When you play to win you leverage the assets in your bag for the day rather than selecting the shots you think you should hit.
[21:40] #9: Never get ahead of yourself – When you're playing the game you need to be patient enough to invest your best quality and attention into each individual shot.
[22:22] #10: Enjoy the round – In case you have forgotten, golf is a game and it's mean to be fun.
Don't forget to download your free cheat sheet here >>>>>>>>>>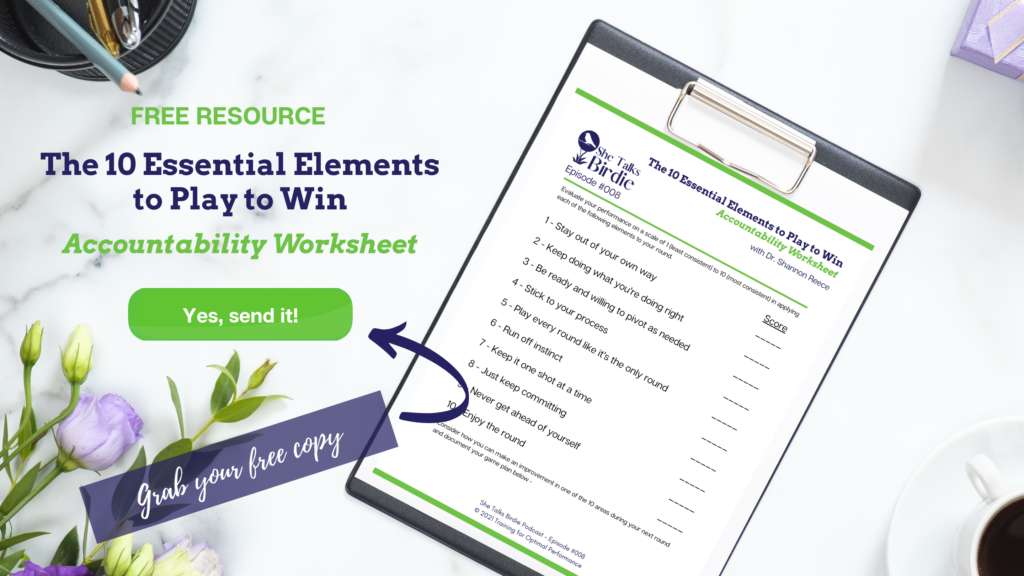 Rate, Review, & Subscribe on Apple Podcasts
"I love Shannon and She Talks Birdie." <– If that sounds like you, please consider rating and reviewing my show! This helps me support more golfers — just like you — to improve their mental game so they can experience more consistency, more confidence, and loads more fun. Click here, then click on "Listen on Apple Podcasts" and a new window opens, scroll down and click on "Write a Review." Then be sure to let me know what you loved most about the episode!
Also, if you haven't done so already, subscribe to the podcast. If you're not subscribed, there's a good chance you'll miss out. Subscribe now!
---
Subscribe where you listen to your favorite podcasts now!