Like many golfers around the globe, you may be about to embark on another golf season. Perhaps your excitement is mounting because due to winter or a wet start to the spring your game has been on hiatus.
As you think about what you'd like to accomplish, it's natural to want to set some lofty goals. And you definitely should.
But goals aren't enough to get you and your game to the finish line your envisioning without a strategic game plan. That's why in this episode I share 10 practical ways to transform your golf goals into winning action.
To grab of copy of the Highest Priorities worksheet CLICK HERE.
Here's how this episode plays out…
[7:12] #1: Start with a Priorities Check – If you aren't finding your game fulfilling then your activities and pursuits may not be aligned with your deep reasons for playing.
[8:26] #2: Be Clear About the Finish Line – I want you to identify a BHAGG, also known as a big hairy audacious golf goal.
[9:47] #3: Know Your Why – You have to know that your reason for this pursuit is big enough to overcome any obstacle.
[11:21] #4: Identity Your Low-Hanging Fruit Opportunities – Consider every place you could use some refinement, improvement, or adjustment that could enhance your performance.
[13:28] #5: Reverse-Engineer Your Action Steps – You don't want to set a great looking goal but have no idea what the step by step actions steps need to be to reach it
[15:51] #6: Decide How & When You Will Measure Your Progress – You have to set the parameters you will commit to using in order to hold yourself accountable.
[18:14] #7: Track Your Wins – There is no value in keeping track of how many times you DON'T do something right. All you're doing is shining the spotlight on the wrong habit.
[19:16] #8: Add Your Action Steps to Your Calendar – It's important to schedule time on your calendar specifically for the purpose of working on your action steps.
[20:06] #9: Pivot When Necessary – Your plan is not cast in stone. It's a living changeable one.
[21:00] #10: Choose an Accountability Buddy – Sharing your goals with others is an additional way to hold yourself accountable.
Don't forget to download your free worksheet here >>>>>>>>>>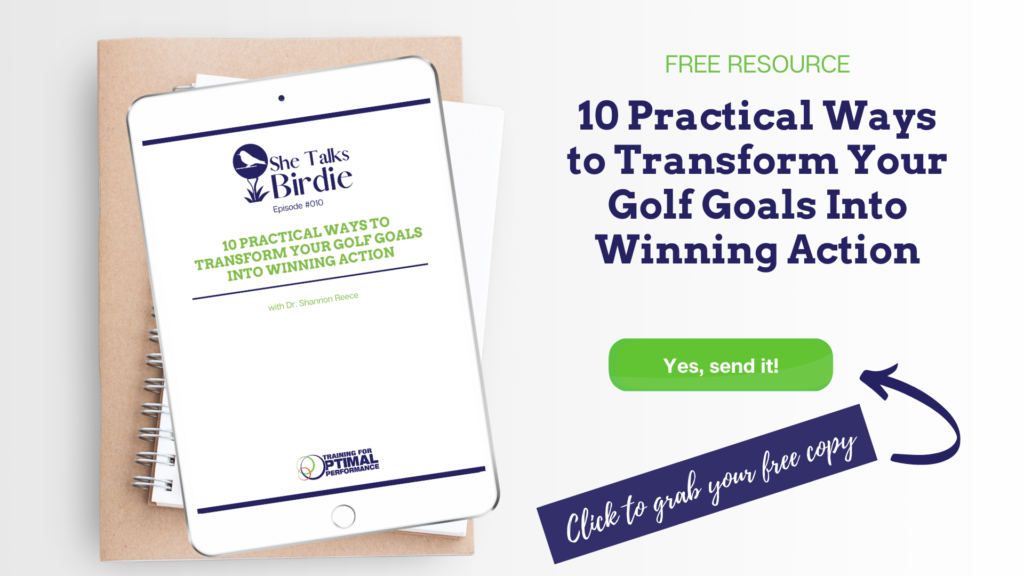 Rate, Review, & Subscribe on Apple Podcasts
"I love Shannon and She Talks Birdie." <– If that sounds like you, please consider rating and reviewing my show! This helps me support more golfers — just like you — to improve their mental game so they can experience more consistency, more confidence, and loads more fun. Click here, then click on "Listen on Apple Podcasts" and a new window opens, scroll down and click on "Write a Review." Then be sure to let me know what you loved most about the episode!
Also, if you haven't done so already, subscribe to the podcast. If you're not subscribed, there's a good chance you'll miss out. Subscribe on iTunes here!
---
Subscribe where you listen to your favorite podcasts now!