Have you been feeling lucky on the course lately?
Every golfer loves those moments when it feels like the stars have aligned in their game and shots are just working out even when they don't make perfect contact. But you can't wait around hoping for the best if you want to play great.
In this episode, I'm going to share the 3 proven ways to increase your luck in golf. And the best part is that you may be surprised at how easy it is to do.
Here's how this episode plays out…
[04:10] Strategy #1: Have a Plan – Here I share how to uncover the right things to focus on during a round in place of your score so that you can shoot a good score.
[06:33] Strategy #2: Look for Opportunities – The more flexible your approach to your round, the easier it is to tap into your creativity and put yourself in the best position to hit a great shot.
[09:19] Strategy #3: Just Chill – You have a choice when it comes to how you perceive the challenges of the game. And in this final strategy, I talk about why it's so important to keep your thoughts under your control.
Don't forget to download your free cheat sheet here >>>>>>>>>>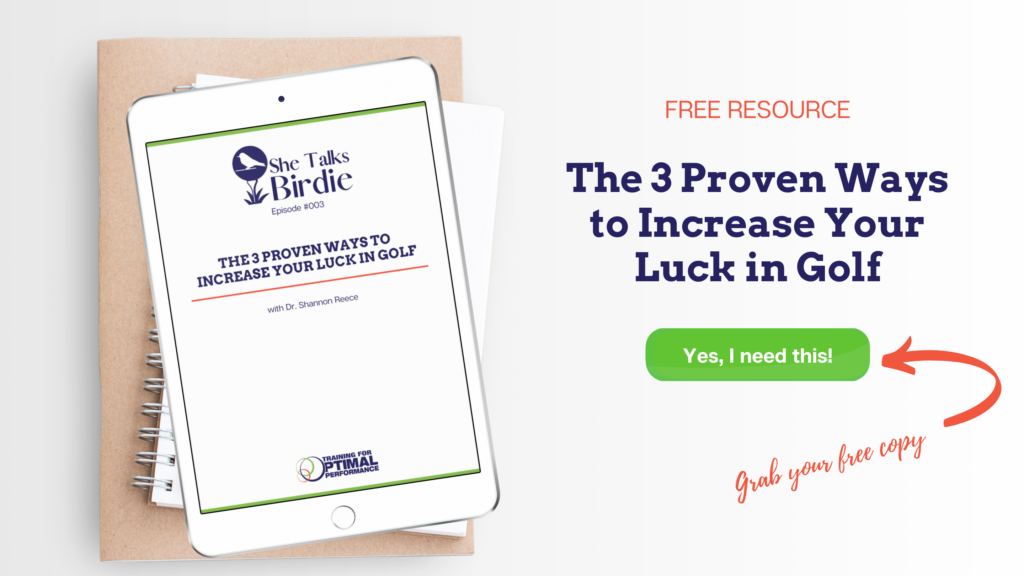 Rate, Review, & Subscribe on Apple Podcasts
"I love Shannon and She Talks Birdie." <– If that sounds like you, please consider rating and reviewing my show! This helps me support more golfers — just like you — to improve their mental game so they can experience more consistency, more confidence, and loads more fun. Click here, then click on "Listen on Apple Podcasts" and a new window opens, scroll down and click on "Write a Review." Then be sure to let me know what you loved most about the episode!
Also, if you haven't done so already, subscribe to the podcast. If you're not subscribed, there's a good chance you'll miss out. Subscribe now!
---
Subscribe where you listen to your favorite podcasts now!