Subscribe to my weekly GOLF newsletter
In each issue that arrives right to your email inbox, I share what's new at Training for Optimal Performance, amazing client updates, answers to my subscribers' biggest mental game questions, my top tips to help you develop your mental game, and subscriber-only specials that you don't want to miss. 
If this sounds like something you'd like to have delivered right to your inbox, I invite you to subscribe today. Simply click on the link below.
View Newsletter Archives
04/15/16 – Give In or Step Up – Lesson from The 2016 Masters
---
Free Downloads
To download a free resource, simply click the download link, complete the registration online and you will receive a link for instant download. If you have any trouble, please contact me directly at 239-431-6810.
Play Great
Golf Guide for Parents – TOP 5 Tips to Support Your Junior Golfer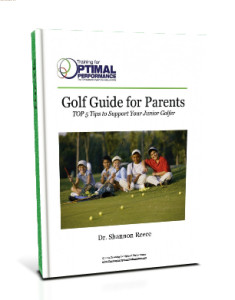 Top 5 Tips to Balance the Social and Serious Sides of Golf